Due to Coronavirus restrictions on travel, many Brits have decided to forego foreign travel and dog-friendly holidays in the UK much to the delight of our Westies.
There are so many excellent dog-friendly destinations geared towards the dog-loving British public. It's always worth doing plenty of research before making a firm decision and booking. When a destination and accommodation catches the eye always check out the reviews, check the position of the property in relation to safe dog walks, dog-friendly beaches, cafes, restaurants and public houses, and that there's a safe garden for the dogs attached to the accommodation. It's always handy to find somewhere that has plenty of good walks in close proximity. If raw feeding is your choice of food for your bestie, then make sure there is a freezer to store food, or a good local pet shop where you can stock up.
It's always best to make a check list and mark off each item as its packed in the car on the day of travel.
Starting with items you're likely to need on the journey is best. If it's a particularly long trip, make sure you have plenty of drinks and snacks to keep your pooches busy.
Harnesses, car safety straps, travel water bowls, bottles of filtered water, treats (nothing smelly as you don't need the smell of fish skins or pizzles on a long journey). Dried lamb bites, or turmeric sausages work well.

Then have a think about what one might need away. Food – make sure you plan enough meals and have enough food for while you're away. Dog bowls or platters (and even scales if you raw feed) so you can continue to weigh out correct portion sizes. Do you dogs have any supplements? Do you need insect repellents, intestinal cleansers on a daily or weekly basis?

If you have a dog sensitive to fleas or mites it's worth taking a can of repellent to use in the accommodation. There have been lots of dogs holidaying in the properties before your arrival so always best to be prepared.
Some holiday cottages do provide dog beds, but it's worth taking your own selection of fleecy blankets for your dogs to use and be sure to pack your dog's beds too if your accommodation doesn't provide them.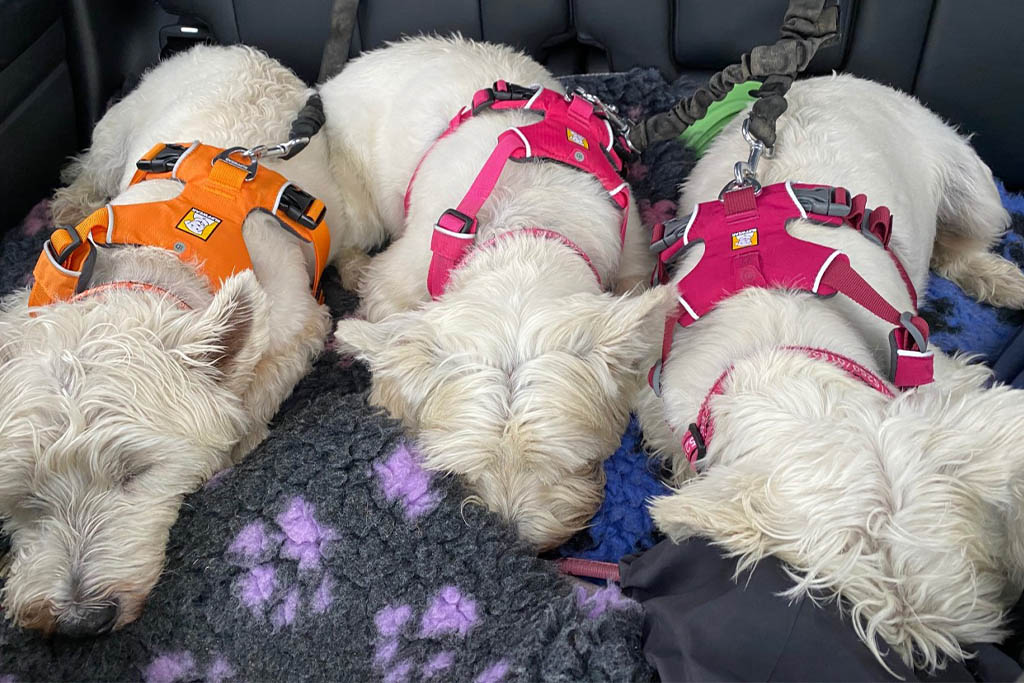 It's always useful to take spare collars and leads, just in case a lead gets dropped or a collar gets covered in mud or something nastier if you have a dog that loves to roll. If your dog is on medication, take enough for your whole trip, no one wants a poorly dog while on holiday. Check out the closest veterinary practice and keep a note of opening hours and telephone numbers.
It's a safe bet to also take a very basic first aid kit just in case, this includes only a couple of bits like Colloidal Silver Gel, Colloidal Silver spray, coconut oil, a tick key for removing any of the nasty things, and some cotton wool pads to clean any wounds.
The only other things you will need are a supply of poop bags, the biodegradable kind, some towels, dogs on their holidays love to swim at the beach or roll in mud. Take a bottle of dog shampoo as most Westies will want to make the most of their holidays by getting muddy and filthy whilst on walks. Remember to take a brush to remove the mud and sand out of their coats.
There's nothing worse than going away and 100 miles into your journey you realise you have forgotten something you are going to need
For those that haven't sampled the delights of a U.K holiday in some of the wonderful destinations we have in this country, I strongly suggest you give it a go in the not too distant future.

Sue, Max, Marf and Roo