Westies & Besties catch up with children's book author, Alison Page, creator of Corrie's Capers, whose thrilling adventure stories based on her very own wee Westie, are delighting children around Britain.
How did becoming a children's author come about? Did you always know you'd write about Westies?
I live on the Isle of Arran which is sometimes referred to as "Scotland in miniature".
I feel truly blessed as Arran is most certainly a perfect place to write any book. When I was out walking Corrie, my westie, several times each day, I would return home brimming with ideas and inspiration for storylines. My books were always going to involve my wee Westie.
I used to live and work on the mainland Monday to Friday and then spend every weekend on Arran. The locals call it "ferry louping" when you go back and forth so often.
I would sail over with Corrie and if we weren't up on deck enjoying the sea breeze, we would sit in the "doggy lounge" of MV Caledonian Isles (the area of the ferry where dogs are permitted). Corrie was loved by everyone she met, and we made many new canine friends over the years while on our travels.
During peak Easter and Summer sailings there would be so many West Highland Terriers on board I used to say it was like a Westie Convention!
I write stories for children aged 7 and under so convention was far too big a word for wee ones to get their heads round. Cue "Corrie's Capers Books" … and so "The Westie Fest" (my first picture book) was born!
I am most fortunate, I write stories for personal enjoyment, not to earn a living.
I'm an indie author so am responsible for writing, producing, distributing and marketing my picture books. (Yes, it is me that goes to the post office with the book orders too!)
I wanted to capture these very personal stories about my precious West Highland Terrier while Corrie was still with me. I also wanted my dear Mum (now 90 years old) and other relatives to read my books and enjoy the family aspects threaded throughout.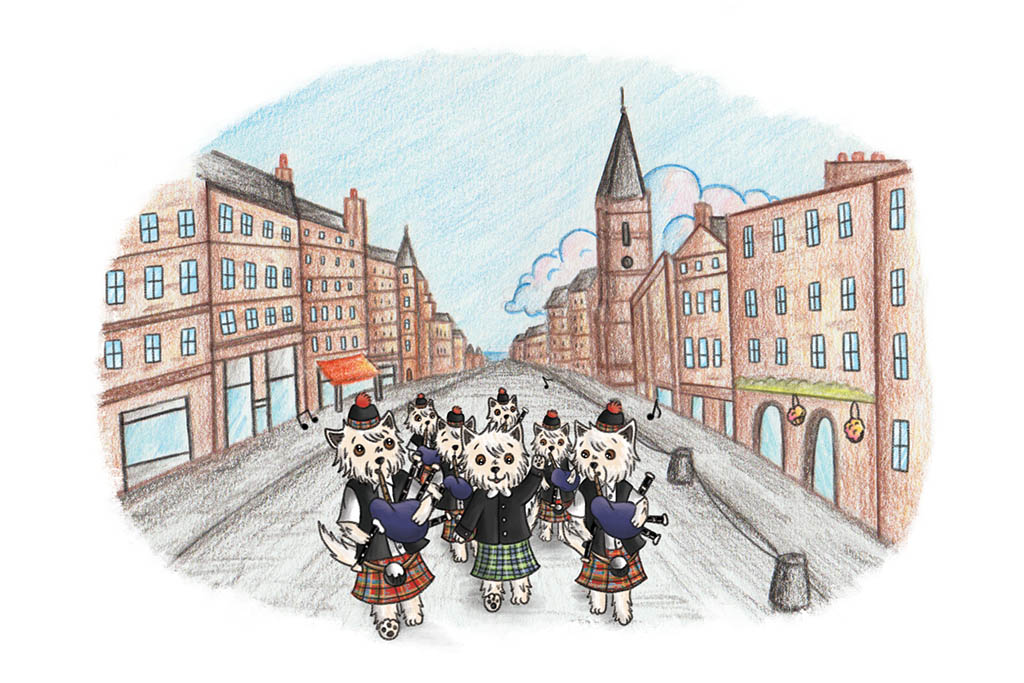 You donate a percentage of money to your chosen charities from the sale of your books – how important is this to you?
I am the Isle of Arran Ambassador for the charity, Mary's Meals. I decided that if I did actually manage to cover my costs and make any money, I would split that equally between funding the next book and feeding starving children through the Scottish-based charity Mary's Meals. School plus good equals' hope.
I wanted to write but didn't start this project thinking I would necessarily make any money.
The picture book business is hugely competitive and it's really tough trying to get your book looked at never mind accepted to go onto a shelf by any shop never mind any of the major bookstores (yes, that's still work in progress). I am so, so grateful to the Independent bookstores and all my lovely stockists who took a chance on me and purchased Corrie's Capers Books.
There was always a serious risk I would end up lining my loft with books but thanks to all the people who have purchased copies of Corrie's Capers books, I have managed to donate £7,700 to Mary's Meals so far. Now that I have covered the costs of illustrating and printing my current stock, ALL proceeds from book sales are going to this wonderful charity.
Corrie's Capers is based on the adventures of your own beautiful Westie, Corrie who lived to be 15 years of age. Is there something magical about Westies?
Magical? Oh yes indeed! My grandfather owned a Westie and the spell was cast; I always knew if I was ever lucky enough to own a dog it would have to be a West Highland Terrier.
I think West Highland Terriers are most certainly a very special breed. They have such character and a mind of their own – with their precious faces and rascal traits which can't help but bring a smile to your face. Corrie was my absolute bestie and I miss her so very much.
Kirsty Oxley and Tony van Breugel are your book illustrators. How well did their work reflect your imagination?
Given their different styles and levels of experience, I think Kirsty and Tony both made a super job of illustrating Corrie's Capers. They allowed me to bring to life Corrie's special personality as well as the places she lived or visited on her adventures.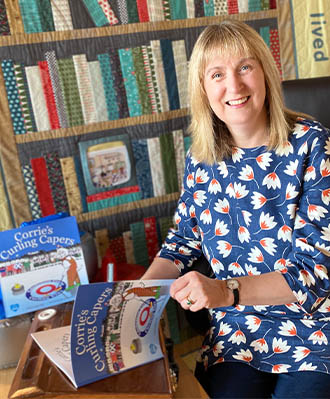 Will you write more books?
To be completely honest, I'm not sure yet. I've already been asked by one Primary School when the next Corrie's Capers book will be coming! (No pressure, I thought I'd done quite well producing three books in three years!!)
When my precious Corrie crossed over the Rainbow bridge in April, I have to admit,
I thought that would probably be the end of her book capers too.
But, how does the saying go? "Never say never …"
Where can people buy your books?
Corrie's Capers books are available to purchase from my on-line shop www.westie.scot/shop/ Now I have a question for you: Are there any Westie loving Primary School teachers out there? Covid-19 has prevented me from offering author readings in schools this year so I have recorded a downloadable on-line option for use in schools or nurseries (suitable for Age 7 and under). If you are interested, please get in touch and mention Westies & Besties Magazine and we will hatch a plan