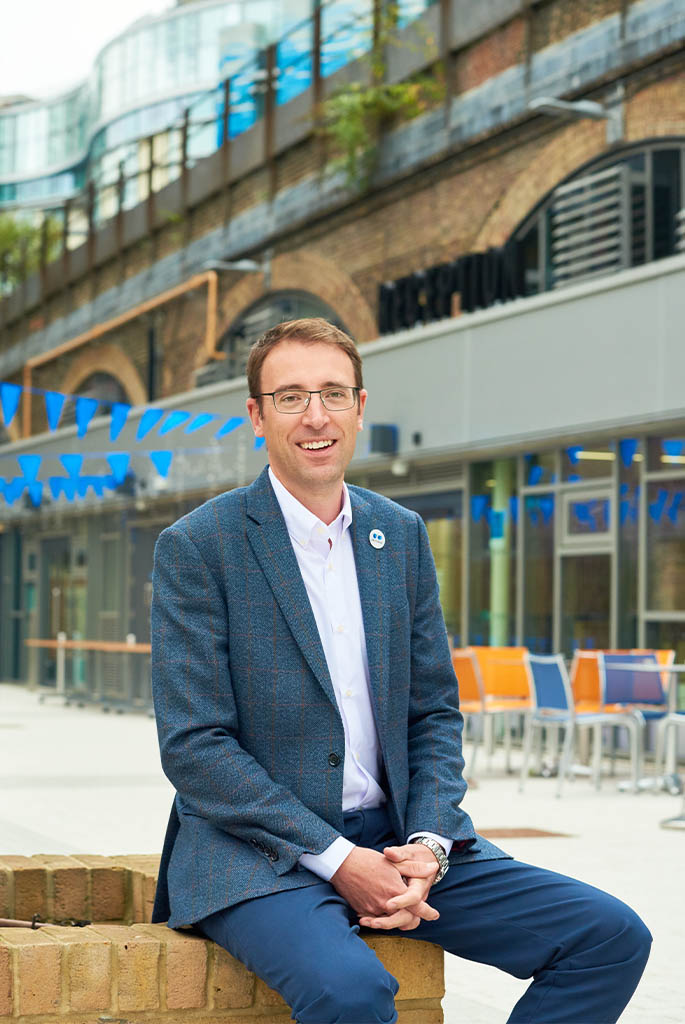 Battersea CEO, Peter Laurie, on sharing the British institution's wealth with communities around the world
It is nearly one year since you took over the role of Chief Executive. What have you learnt during this year? What positive changes have you made? What are your plans for 2022?
I am incredibly proud of everything that Battersea has achieved in the last 12 months. Everyone has worked extremely hard in response to the Covid pandemic. We have innovated and adapted our ways of working to ensure we can continue to bring in and rehome dogs and cats, whilst keeping our staff and customers safe, and we have learnt a lot along the way.
Throughout the last year we have kept our centres open and welcomed thousands of dogs and cats. We have helped the broader animal rescue sector through our Academy and Grants programmes. We have supported existing pet owners through our online advice and training classes. And we have continued to work with Governments to bring about lasting change, for example through our successful campaign for tougher prison sentences for the worst animal cruelty offences.
As we emerge from the Pandemic, we are beginning to see an increasing number of dogs and cats in need of our help, many with medical and other challenges. A big focus this year is ensuring our three centres and our two Communities are able to help as many animals as possible, and we will be providing further support and advice to existing pet owners to help keep them stay connected with their animals.
We also have big ambitions to increase our reach and grow our impact, to help more dogs and cats. This year and into the future we will be expanding our work and delivering new programmes.
In a previous role, you were Chief Executive of the Greyhound Trust. Are there challenges working for a charity that cares for numerous breeds?
Misconceptions and pre-conceived notions about the traits and behaviours of certain dog and cat breeds can heavily influence people's rehoming choices. For example, Greyhounds are often overlooked as people assume that they require a lot of exercise, but actually these dogs are pretty lazy and love nothing more than a snooze on the sofa. Likewise, Staffies have a reputation for being tough, but they're actually huge lovers, not fighters!
Breeds with negative stereotypes such as these can stay in our care for longer. We'd encourage everyone to look past a pet's pedigree and love them for their character instead. At Battersea, we only have one favourite breed, and that's rescue.
You're also a Trustee of the Thailand Elephant Foundation. Please tell us about this Foundation and its work.
I helped set up the Southern Thailand Elephant Foundation in 2017 in response to a clear need to help improve the health and welfare of the many Asian Elephants across the southern regions of Thailand.
Our focus so far has been on the construction and operation of an urgently required veterinary hospital near Phuket for these magnificent animals, and an accompanying mobile veterinary clinic that is able to reach and provide first aid to Elephants in surrounding rural areas. Early in the Covid Pandemic, when the economy in Thailand was particularly badly hit, we also ran a successful fundraising appeal and logistical operation to get food supplies to hundreds of hungry and starving Elephants, whose owners simply couldn't afford to buy feed.
To find out more, please visit www.southernthailandelephants.org.
Battersea has an amazing list of ambassadors. What criteria do you have when it comes to adding an ambassador to your list?
Battersea is lucky enough to have a great group of committed Ambassadors helping to support our work. Our ambassadors all share a true passion for dogs and cats and our work at Battersea. They have supported us for many years and continue to do so much to help us promote our cause and the importance of rescue.
Battersea welcomed its first stray dog in 1860 and has gone on to help over 3 million animals. Why do you think Battersea has been/is so successful and so well-loved?
Part of the reason why Battersea has been so successful in helping so many animals over the years is thanks to our extremely dedicated workforce. Even throughout the most challenging times, such as World War Two and the more recent Coronavirus pandemic, our staff have always put our animals first.
Of course, none of our work would be possible without the generosity of our supporters. Battersea receives no Government funding for the work we do, and we rely solely on the public's support to continue helping every dog and cat that needs us. If you'd like to find out more about supporting Battersea, please visit www.battersea.org.uk.
Battersea Communities has been set up and by 2023 the aim is to establish 10 communities that can help rehome around 2,000 animals. How important are nation-wide community relationships to the work Battersea is doing?
Becoming a Community Rehoming Volunteer and temporarily opening your home to a Battersea dog or cat means that you are providing invaluable care for animals who really need that second chance.
In order to help more dogs and cats, we've set up Battersea Communities to enable us to work with local people in areas where we don't have rehoming centres – this means we will be able to engage more with areas outside of our regions, and also be able to help more dogs and cats beyond our gates.
To find out more about becoming a Community Rehoming Volunteer with Battersea, please visit www.battersea.org.uk/about-us/battersea-communities.
Tell us about the Battersea Academy and the aims of the Academy.
At Battersea, we strive to improve the lives of every dog and cat. We know that we can achieve more together than we can alone, so we've created the Battersea Academy, a centre for professional development that trains animal welfare practitioners from across the UK and around the world.
Delivered by Battersea's experts at our iconic London centre, Academy programmes are designed to equip other rescues with the knowledge and practical skills needed to operate and rehome animals to the highest possible standard.
The Academy is open to any dog and cat rehoming or rescue organisation in any location, from small volunteer-run shelters to established animal rescues. Our aim is to help as many animals from across the world as possible.
It's fair to say that Battersea is a British institution and a generous one at that. Battersea provides grants to animal charities abroad that are in need of help. Can you tell us about this?
We recognise that funding can be a significant barrier to change for many organisations, many of whom aren't as fortunate to have the same reputation and supporter base as Battersea. That's why Battersea has launched a brand-new funding opportunity for rescues who have taken part in an Academy programme.
Our Grants scheme will give smaller rescue centres, who have taken part in our Academy programme, the resources needed to help more vulnerable animals, across the world.
How many West Highland White Terriers have you had at Battersea? How difficult is it for potential owners to adopt a dog from Battersea?
We don't see many Westies come into Battersea – last year we took in just six across all three of our centres!
If you are looking to welcome a new dog into your life, I'd encourage everyone to consider a rescue in the first instance. Rescue pets have so much love to give and are just looking for a second chance for someone to show them the love they truly deserve.
We rehome to people from all walks of life and living arrangements; not only are Battersea dogs living in the Royal Household with our Patron, the Duchess of Cornwall, but they are also living in campervans and houseboats! If you're interested in rehoming a Battersea dog, please register your interest at www.battersea.org.uk.