"We want to remind people that pets aren't presents and shouldn't be snapped up quickly online in the Christmas rush. Introducing a new pet into the home is a commitment that requires a lot of thought, time, and money".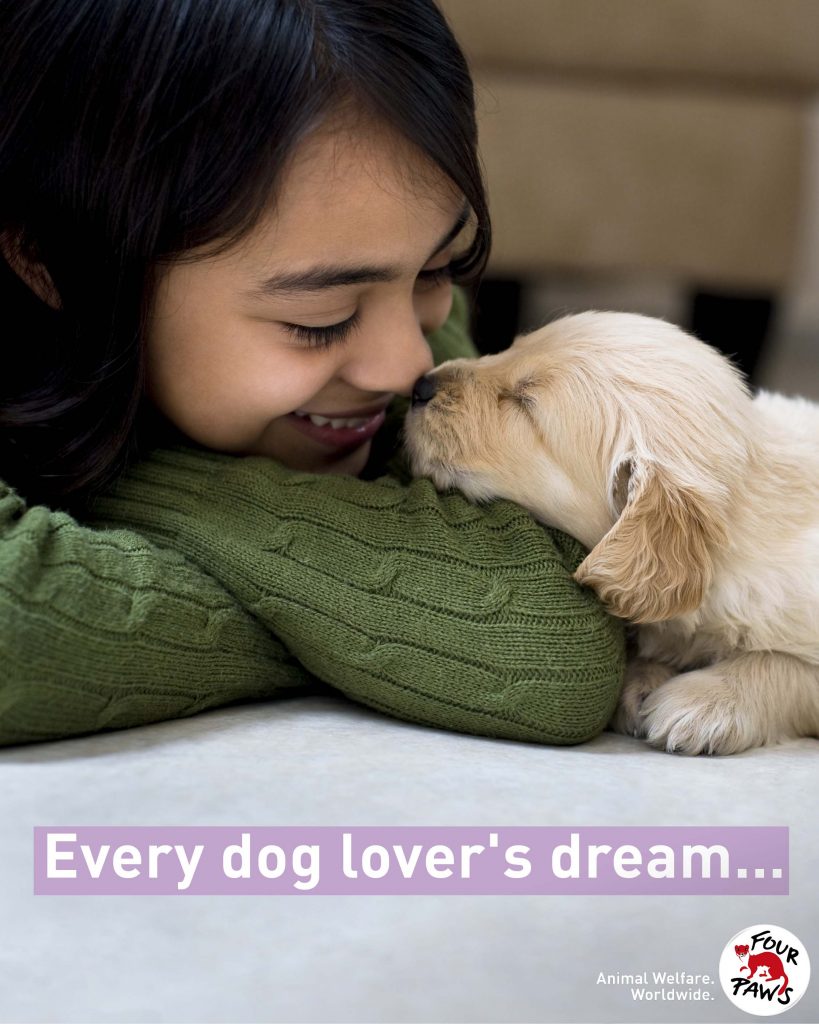 With major shopping milestones like Black Friday, the November sales, Prime Day and more dominating the lead up to the festive season, it is increasingly common to head online to pick up a great deal just in time for the big day.
Unfortunately, this also happens when it comes to buying a pet. And whilst the convenience of online shopping is a real pull, FOUR PAWS urge people to take more precautions when it comes to finding a four-legged companion.
Buying a puppy as a gift may appear cute, and arrive quickly, but the reality is, they can often end up heartbreakingly sick, especially if not well cared for by unscrupulous breeders.
In just a year, FOUR PAWS UK received over 1,000 reports from supporters experiencing or witnessing the damage that illegal puppy sellers cause.
Illegal traders advertise puppies who have been bred in miserable conditions. Separated from mum far too young, they are often transported hundreds of miles across borders with forged or non-existent identification and vaccination documents. This poses a great risk to human and animal health and can also bring a greater risk of dangerous zoonotic diseases like rabies and parvovirus (parvo) which can kill humans as well as dogs. Around 11% of reports, in fact, detailed how puppies purchased ended up with parvovirus resulting in sickness and in some cases death.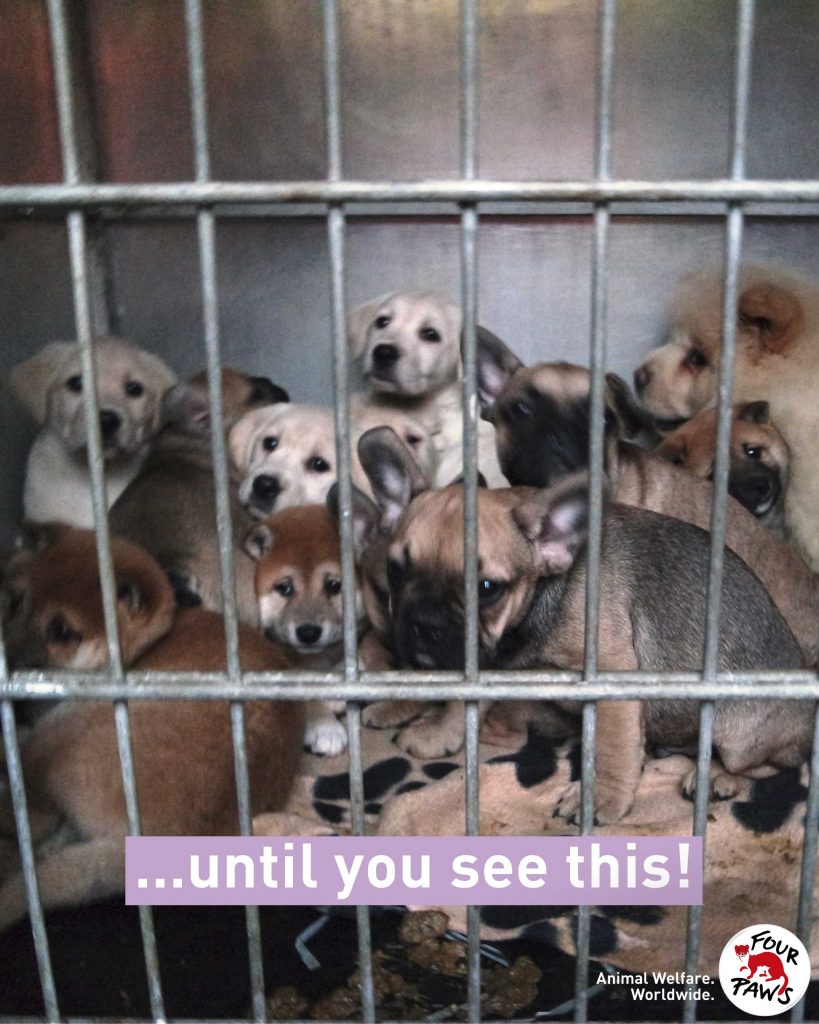 It is clear unscrupulous dealers are placing profit over suitable care to meet the massive demand for a new four-legged friend, with familiar and 'trustworthy' websites such as Facebook and Pets4Homes becoming the most popular hotspots to sell them on.
Emily Wilson, Head of Campaigns at FOUR PAWS UK explains: 
"The danger in buying a puppy as a gift this festive season is that whilst they may look cute and arrive quickly, they could be sick. Sentient beings, being bought as a gift online cannot only bring potential heartbreak, but also costly vet bills over the Christmas break." 
FOUR PAWS supporter Richard thought he had found the perfect addition for his family in December 2020, when his family spotted Reggie on one of the UK's leading classified ad sites. He followed all the site's guidelines when contacting the seller to enquire about the 12-week-old Labrador, asked all the important questions and received satisfactory answers. Richard was happy to visit the puppy, and two other dogs, at the seller's given address. He immediately fell in love with Reggie, who seemed healthy and happy. He paid the seller and took the puppy home that very day. 
Devastatingly, only three hours after Reggie arrived at his new home, he fell seriously ill. Suffering from vomiting and diarrhea, which became progressively worse until Richard and his wife had no choice but to rush him to their local vets. 
Reggie spent the next three days between the surgery and their home. It was then that the family was given an unthinkable choice. With Reggie's chances of survival standing at around 20%, they could attempt a blood transfusion or put him to sleep; the vet strongly recommended the latter. 
After only four days of joining his new family, Reggie's family had to say their goodbyes, as Reggie could not recover from the parvovirus infection. 
It was later discovered that Reggie was bred on a puppy farm in Ireland in appalling conditions and without proper care from the breeder or the seller, and that all his paperwork was forged. 
Although Richard and his family were heartbroken, they embarked on a long fight for their puppy, and launched the Justice for Reggie campaign.
Heartbreakingly, stories like this one are not uncommon and the emotional distress caused is permanent.  With 35% of cases reported to FOUR PAWS UK under investigation by legal experts, much more needs to be done to close the gaps in this trade and ensure a transparent and accountable market can take its place. One which prioritizes animal welfare. 
 Emily Wilson concludes: 
"We want to remind people that pets aren't presents and shouldn't be snapped up quickly online in the Christmas rush. Introducing a new pet into the home is a commitment that requires a lot of thought, time, and money. With the cost-of-living crisis, we are seeing more animals being abandoned as they simply become too expensive to look after.
In place of purchasing a puppy online this Christmas, we recommend people take their time, do a lot of research, perhaps even visit rescue centers and consider a suitable adoptee, who is healthy and can fit your lifestyle. 
"#ThinkBeforeYouClick and give yourself and your potential new furry friend the best gift, by equipping yourself with all the knowledge you can to make the right choices, no matter the time of year."