The sight of a dog being pushed around in a buggy not only attracts a lot of interest, but also divides opinion.
Emma Green, product designer at Pet London (petlondon.com) began selling pet buggies fifteen years ago, and her initial batch sold out within a week of launch.
"It was probably the first time UK consumers had access to a modern looking pet stroller, and they had a great reaction to it," she says.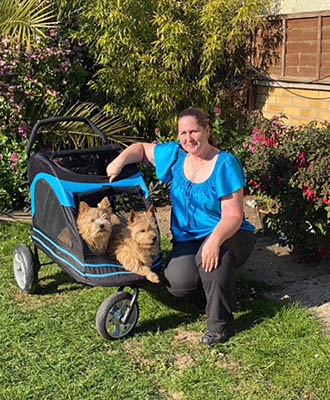 Since then, Emma's company usually notices a year-on-year growth in stroller sales, and believes their popularity comes down to simply 'solving several important needs'.
"They allow an elderly or injured pet to feel included, enable puppies to be socialised, and can be a comfort space for a rescued or traumatised animal," she explains. "And for owners, it means their dog can be included in more of their daily routine."
"Our pushchair has been a godsend for our 17-year-old Westie, Millie," says Gill Heywood from County Durham.
"When she was younger, she had two tibial plateau leveling osteotomy surgeries, and has titanium in both knees, and also arthritis. The pushchair means she can still join in everything, and we do not have to leave her at home when we go out."
Far from feeling confined in her stroller, Gill says Millie enjoys being pushed about, but still manages to get out for a potter, too.
"She loves to ride in it. She gets out and has a walk and sniff around, then lets us know when she wants to get back in."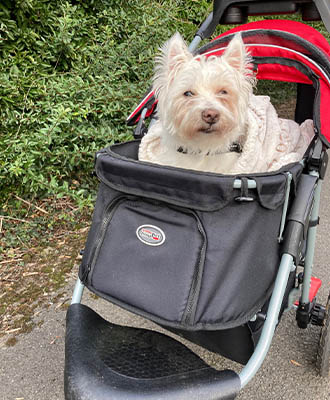 Alison Wanstall from Kent became an occasional buggy user when her rescue Westie, Bear, had arthritis and Westie Lung Disease. When he went on to tear his cruciate ligament, he started using a pram regularly.
"The stroller made a huge difference to Bear as it let him get out and about," Alison explains. "Despite this, people did feel the need to make negative comments, for example, 'why don't you let it walk, it's got legs'. Wouldn't it be nicer just to ask if there is something wrong with the dog? Or say nothing at all?"
Alison now helps run a dog owners' Facebook group, Dogs With Strollers, and often attends group meet ups.
"We organise walks that are suitable for strollers, so a decent path, and not too hilly," she says. "We generate a lot of interest, but when it's a group of us we get more lovely comments than negative, but you do take the negative ones very personally!"
Alison agrees that strollers can benefit dogs at many different stages and are not just for those with less than robust health.
"They are great for building up exercise with a puppy and for keeping them safe," she says.
Safety was one of the main reasons Lisa Smith from west Yorkshire bought a stroller for her first holiday with her then-four-month-old Westie, Teddy.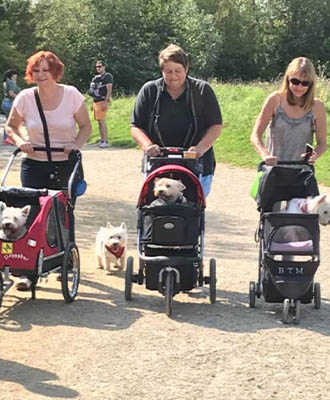 "Teddy is two now, but when we first took him away, we didn't think he would be able to walk all day, and I was concerned about his legs," Lisa says. "The buggy stopped me worrying about him getting trodden on in busy areas, too. He did still walk but would just get in once he was tired."
Lisa has also faced comments from strangers about Teddy's pram.
"People are far too quick to judge. I've had 'dogs are supposed to walk', 'is it a furry baby?' but he loves it – it means he is included in every aspect of our holidays, and with the increase in dog thefts, it gives me peace of mind that he is safe."
And there are other owner benefits too…
"The basket underneath is so handy when you're out and about," says Lisa. "But my favourite feature on mine is the coffee cup holder on the handle!"
The Expert View
"Dog buggies are a great way to include older dogs, dogs with arthritis or mobility issues of any age, and young puppies while they cannot walk far during early development," says trainer Joe Nutkins, KCAI (www.dogtrainingessex-suffolk.co.uk) "They provide a valuable addition to exercise, allowing dogs to go out with their family but not over do things, although they shouldn't replace activity."

OUR BEST BUYS
InnoPet® Adventure Buggy – £189.95 petsownus.co.uk
Top of the range all-terrain buggy that's big enough to carry two small dogs and comes with a cup holder and accessory tray.
Display4top Pet Travel Stroller Black – £54.99 amazon.co.uk
Has mesh windows for ventilation, and lockable back wheels, so no rolling off when stationary! Lots of under buggy storage space, too.
Pink Sugar Pet Stroller – £145.00 petlondon.com
Pet London's top selling buggy – 360-degree swivel front wheels, one click folding mechanism, and a huge basket for those doggie and human essentials.