Lifestyle
Let Sleeping Dogs Lie with the Perfect Dog Bed
As well as offering us a great excuse to have a duvet day, it's also a good time to think about our Westie's sleeping habits, writes Chantelle Horton.
Whether it makes you bad tempered, clumsy or drink way too much coffee – we all know the effects on our bodies and brains when we don't have enough sleep. Our dogs also need their beauty sleep – and having their own bed is a big part of this. Here's our guide to choosing the perfect one for your West Highland White Terrier.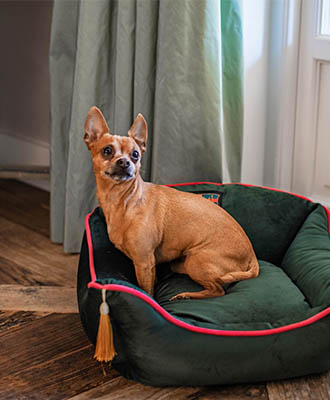 Why is sleep so important?
Caroline Wilkinson, Certified Animal Behaviourist (barketplace.uk)
says, 'dogs only get about half of the deep, regenerative sleep that we humans do – so it's no surprise they need more of it each day. In a 24-hour period, you should aim for around 18-20 hours for puppies, or 12-16 hours for your average adult dog.' And your westie will soon tell you if they're not getting enough ZZZ's. Caroline says, 'over-tired dogs are more likely to be anxious, barky, and, in the case of puppies, hyperactive.'
Why are beds such an important part of our dog's set up?
If your dog regularly dozes on the sofa/under the kitchen table/in front of the radiator, you may well think they're perfectly happy without their own bed. But, as Caroline explains, it's all about choice. 'Dogs tend to sleep in shorter chunks than we do and also like to have options when it comes to sleeping positions,' she says. 'Depending on how they're feeling – physically and emotionally – they may prefer to curl up or stretch out. Providing your dog with a choice of sleeping areas will allow them to have the best rest. Giving your dog a comfortable bed that's just for them also means they can feel comfortable in knowing where their safe place to retreat to is.'
What about if they (cough) sleep on our beds?
There's no cuter feeling than your dog nuzzling into you in the morning. But is this OK? Jon Comeau, Orvis' Dog Product Development Specialist (orvis.co.uk) says, 'there's no outright reason dogs shouldn't sleep on our beds. It's really a choice for the humans involved. There are factors to consider, such as cleanliness of your dog, size and age of your dog and the potential impact on our sleep pattern. For reference, approximately 41% of small/medium sized dogs and 32% of large dogs sleep on human beds.' And as with all habits – think carefully before you start. 'When you go down the path of letting the dog sleep on your bed, it's harder to get them to stop,' says Jon.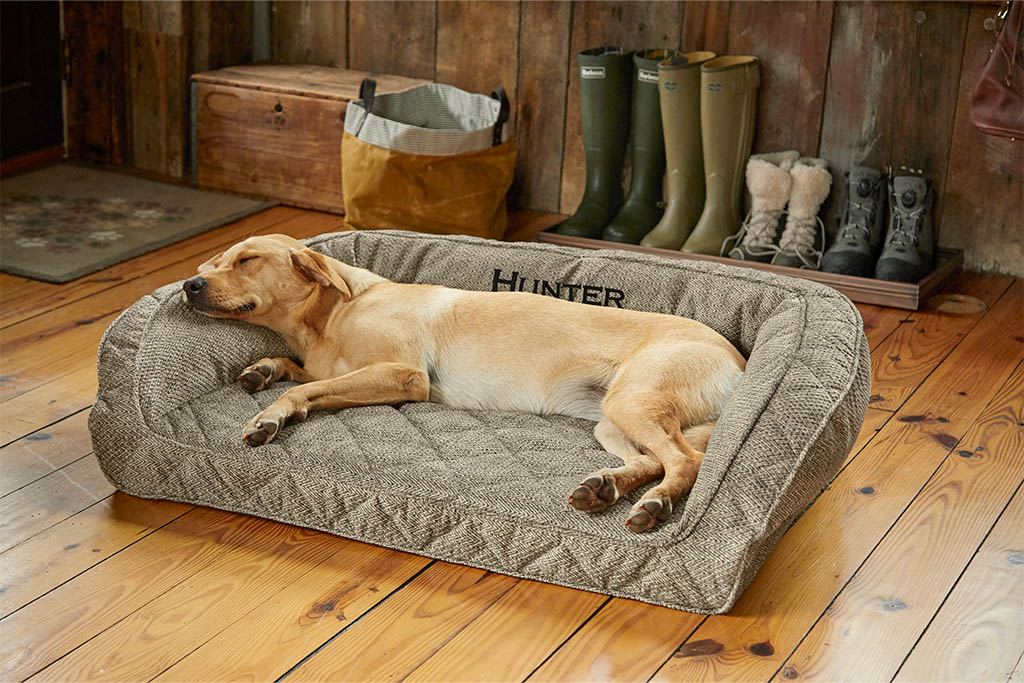 What should I consider when buying a bed?
'Sizing and comfort are very important,' says Jon. 'Larger dogs tend to need more support, or an older dog dealing with incontinence might want a bed that's easy to clean. Age is a very important factor. As dogs age, the discs in their back harden and they lose flexibility. This means that a dog that once curled up may need to sleep laying straight out as it gets older. Another important factor is temperature regulation. For example, if you find your dog laying on cool tiles during warm months they may be trying to manage their temperature. This is a good indication that Airfoam might be the right choice (something like the Ovis Airfoam Platform Bed, from £199), which provides more air circulation for dogs who run warmer.'
What kinds of beds are out there?
Broadly speaking there are four kinds. Wraparound, bolster, platform and couch. Jon says, 'bolster beds are the most popular because they offer three sided support. This allows for a secure den-like feel in the back and also provides a built in pillow for the dog to rest their head on or lean onto. Bolster beds can also be purchased in larger sizes if you have two dogs that like to sleep together. Wraparound beds are great for dogs that love to curl up. Platform beds are efficient and portable which makes them a great choice for taking on trips or to a secondary location in the house. They also fit well in the back of the car on trips.' Couch beds give sofa-loving pooches one of their very own – and make a stylish addition to your front room too.
And what are the best beds for Westies?
'The key word here is terrier,' says Jon. 'They tend to like burrowing because they were bred to kill rodents and rats which means chasing them down holes. I'd suggest a burrow or wraparound bed.' What about the skin problems often associated with Westies? 'You'll want a bed with a durable and easily removed cover for frequent laundering,' Jon recommends. 'Our memory foam beds come with a hypoallergenic water resistant liner to protect the foam and the dog, so they'd be great.'
OUR BEST DOG BED BUYS:
Bolster
Orvis Memory Foam Bolster Bed, from £210, orvis.co.uk
Wraparound
Amara Lord Lou Diana Pet Bed, £69, amara.com
Platform
Silentnight Ultabounce Bed, from £24.99, sleepypeople.com
Couch
Sofology Small Dog Sofa, £399, www.sofology.co.uk
BEST FOR WESTIES:
For the Burrowers: Very Joules Cambridge Floral Hideaway, £29.99, very.co.uk
Hypoallergenic: Orvis Memory Foam wraparound bed with fleece, from £199, orvis.co.uk