Community
A Day in the Life of Pumpkin & Smiggle
This little paralysed westie and her friend Smiggle have plenty of adventures despite her health challenges.
Tell us about your Westie's daily routine and get your dog's mug in the mag!
Email: info@westiesandbesties.com
Pumpkin's day begins at around 6:30am. We start the day with expressing her, making sure her bladder and bowels are empty. Following this, we give her a little bottom bath. Drying her off and putting a fresh nappy on followed by a jumper to keep her warm.
We do some physio exercises to her back legs to stimulate blood flow. Around 8am she has her breakfast, including a magnesium tablet and her probiotics and bladder support aids. Pumpkin will then sleep until just after 9am. 9am is normally playtime as the children have gone to school and I'm tidying the house before I go to work. Pumpkin and Smiggle like to chase the Hoover and attack the duster.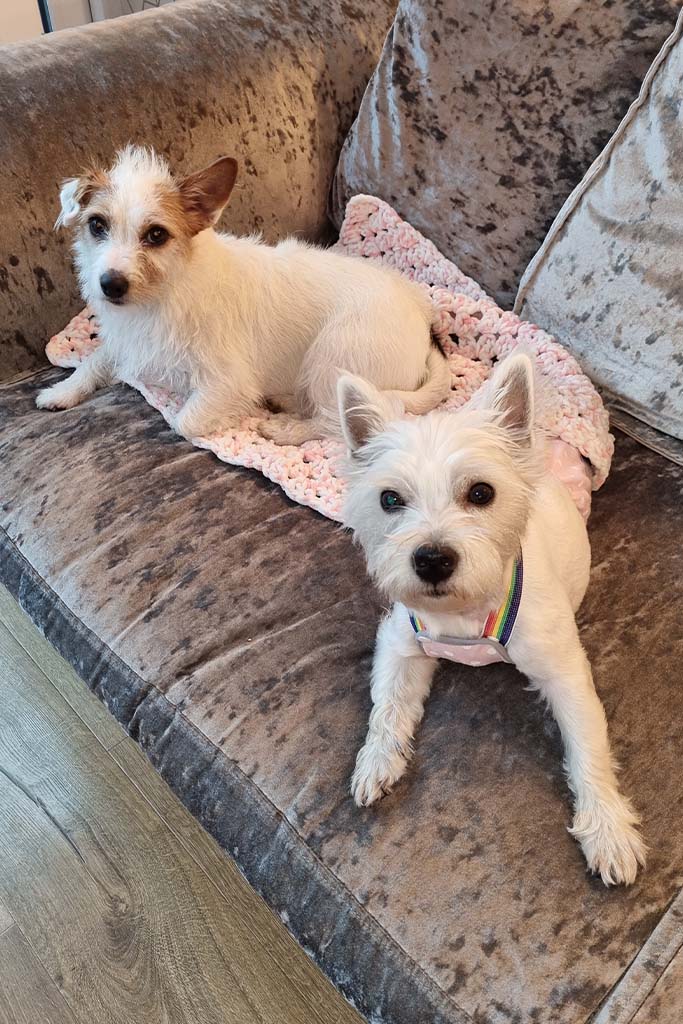 9.45 – it's time for bladder expression and a nappy change.
10am on Monday, Tuesday, and Wednesdays, Pumpkin comes with me to work. I am a nail technician and luckily, I work from home in a converted garage. Pumpkin loves coming to work with me and receiving lots of cuddles from my clients. She has a lovely warm heated pad that she lays on. She's such a good girl and watches my every move. Smiggle will also come in and join us, and they love to sit at the large patio windows watching the world go by, although chaos hits as soon as they see a delivery driver or the postman.
12.15 and it's time for another bladder expression and fresh nappy. I finish work around 2pm so I usually taking both Pumpkin and smuggle for a little walkie. Followed by another bladder express and bottom wash. Pumpkin will always poo after walkies it seems to stimulate her bowels.
From 3pm till 4pm I'm assuming the girls go to sleep as I am away doing school runs picking my children up. The hours between 4pm and 6pm is crazy time. Pumpkin and Smiggle don't stop playing. Ziggy is constantly throwing toys playing ball and entertaining them. They love it when Ziggy gets home from school.
At 6.30pm Richard comes home and Pumpkin gets so excited and vocal, she talks to Richard. I'm sure she is telling him all about her day! Pumpkin will normally poo her pants in excitement. This one is for daddy to sort out! After a bottom clean and a fresh nappy, Pumpkin will then calm down and want her tea.
From 7pm until 11pm, Pumpkin will sleep on the sofa cuddled up to one of us.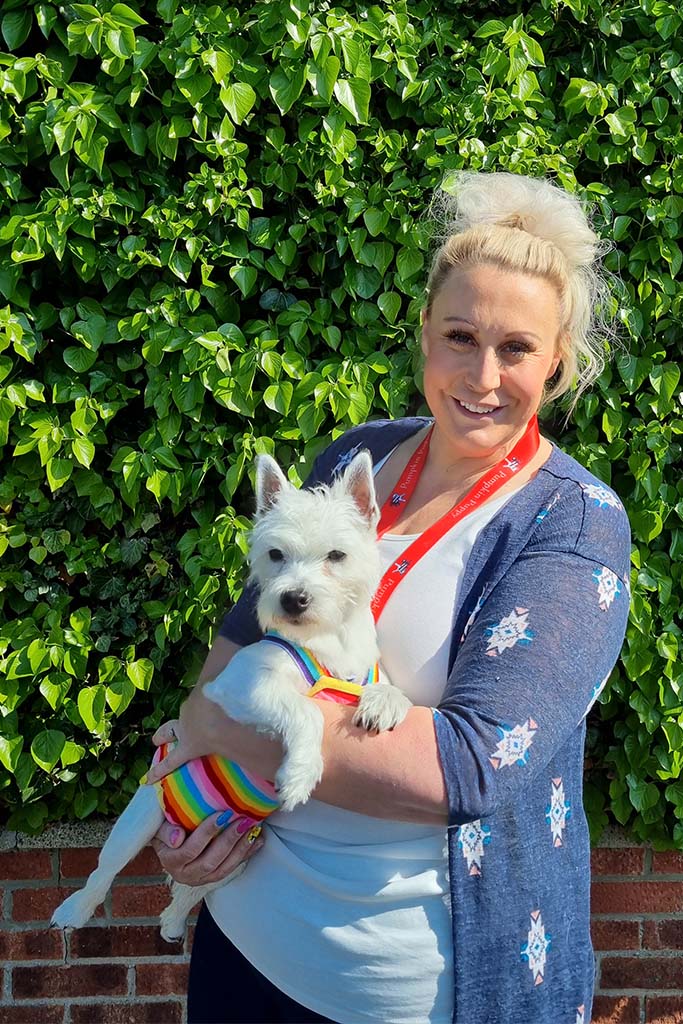 11pm is express time making sure her bowels and bladder are empty before bed. Pumpkin sleeps on our bed at night, along with Smiggle. She has her own special blanket.
3am: The alarm goes off and we take Pumpkin to the bathroom to be expressed emptying her bladder. Pumpkin doesn't seem to mind this, in fact, sometimes she doesn't even wake up properly. We have this down to a fine art, normally taking just a couple of minutes.
Heading back to bed until 6:30 am and the routine begins again. Thursdays are slightly different as we go to hydrotherapy at 10am. Weekends are also very different as we have a house full with Richard not being at work and the children not being at school. We always try to have at least one day where we have a Woodland walk or seaside adventure. Obviously, some of our weekends are taken up with Charity Events. Pumpkin is such a happy dog; this is her normal. She doesn't realise just how special she is. We wouldn't change Pumpkin for the world. Pumpkin Power.